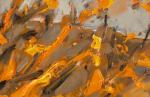 Welcome to an online exhibit featuring the work of Bryan Chubb.
I'm a painter living in the Cariboo region of British Columbia, Canada. As well as recent work, you'll see a few examples of work created during the past 20 years or so The
contact
page will put you directly in touch with me.
Island
Oil on canvas
24" x 30" (61x76 cm)
Comments (0) 20.10.2015. 11:22
Autumn saplings
&nbsp Oil on board
&nbsp 16" x 20" (40x60 cm)
&nbsp
Detail
Comments (0) 20.10.2015. 10:45
Lake in the hills
&nbspOil on board
&nbsp16" x 20" (40 x 50 cm)
Comments (0) 29.04.2015. 11:02
Quesnel Lake 2013
&nbspOil on board
&nbsp18" x 24" (45 x 61 cm)
Art Rental and Sales
at Art Gallery of Alberta
Twin Ponds
&nbspOil on board
&nbsp20" x 24" (50 x 61 cm)
Art Rental and Sales
at Art Gallery of Alberta
Meadow on Spearfish Creek
&nbspOil on board
&nbsp16" x 20" (40 x 50 cm)
Dark sea
&nbspOil on board
&nbsp16" x 20" (40 x 50 cm)
&nbsp
Cottonwoods
&nbsp Oil and conté on board
&nbsp 20" x 24" (50x61 cm)
Detail
Bush
&nbspWatercolour and conté
&nbsp11"x15 " (28x38 cm)
Northern scrub forest
&nbspWatercolour and conté
&nbsp11"x15 " (28x38 cm)
&nbsp1998
Howard Creek Beach
&nbspWatercolour
&nbsp11"x15 " (28x38 cm)
&nbsp2011