Thompson's Ponds
&nbspOil on board, &nbsp10" x 12" (25 x 30 cm)
Two Rivers Gallery Fundraising Auction
Absentee bidding......
BID NOW!!
May 3, 2014
&nbsp&nbspPrince George, BC
Comments (1) 15.04.2014. 08:28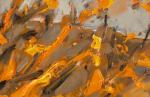 Welcome
to an online exhibit featuring some work of Bryan Chubb, a painter living in the Cariboo region of British Columbia, Canada. In addition to recent work, you'll find examples of work created during the past 20 years or so. The contact page will put you directly in touch with the artist.
.....click on any image to view
Comments (0) 10.04.2014. 12:30
Green Shed Trio
&nbsp Oil on board
&nbsp 24" x 28" (61x71 cm)
&nbsp 2012
Detail
Comments (0) 10.04.2014. 12:02
Blowing over
&nbspWatercolour and conté
&nbsp11"x15 " (28x38 cm)
&nbsp1999
Bush
&nbspWatercolour and conté
&nbsp11"x15 " (28x38 cm)
Northern scrub forest
&nbspWatercolour and conté
&nbsp11"x15 " (28x38 cm)
&nbsp1998
Cottonwoods
&nbsp Oil and conté on board
&nbsp 20" x 24" (50x61 cm)
&nbsp 2013
Detail
Howard Creek Beach
&nbspWatercolour
&nbsp11"x15 " (28x38 cm)
&nbsp2011
Rocky shoreline at Seawall
&nbspWatercolour
&nbsp11"x15 " (28x38 cm)
&nbsp2009