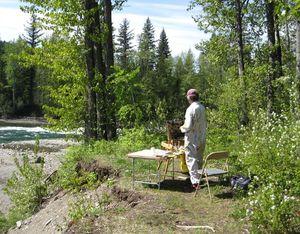 Bryan Chubb
is an artist living in the Cariboo region of British Columbia, Canada. He is a painter working primarily in oils and watercolours both on location and in the studio. As well as recent work, you'll also find here, examples of work created over the past 20 years. The contact page will put you directly in touch with the artist.
Taseko III
Oil on board&nbsp
20" x 24" (50 x 61 cm)
Blue on blue
Oil on board&nbsp 16" x 20"
Donated to Two Rivers Gallery for their
11th Annual Live Art Auction
Saturday, May 26, 2018
Prince George, BC
Meadow on Spearfish Creek
&nbspOil on board
&nbsp16" x 20" (40 x 50 cm)
Dark sea
&nbspOil on board
&nbsp16" x 20" (40 x 50 cm)
&nbsp
Bush
&nbspWatercolour and conté
&nbsp11"x15 " (28x38 cm)
Northern scrub forest
&nbspWatercolour and conté
&nbsp11"x15 " (28x38 cm)
&nbsp1998
Howard Creek Beach
&nbspWatercolour
&nbsp11"x15 " (28x38 cm)
&nbsp2011